Durable, Safe, Attractive Commercial Epoxy Floor Installations
Easy to Clean, Chemical Resistant, and Economical
Commercial epoxy flooring installations in Winnipeg are performed in variety of ways, depending on your needs. A 100% solid epoxy floor coating is used for large majority of commercial projects.  However, polyurea, polyaspartic, and polished concrete are also popular choices for commercial environments.
Long Lasting Commercial Flooring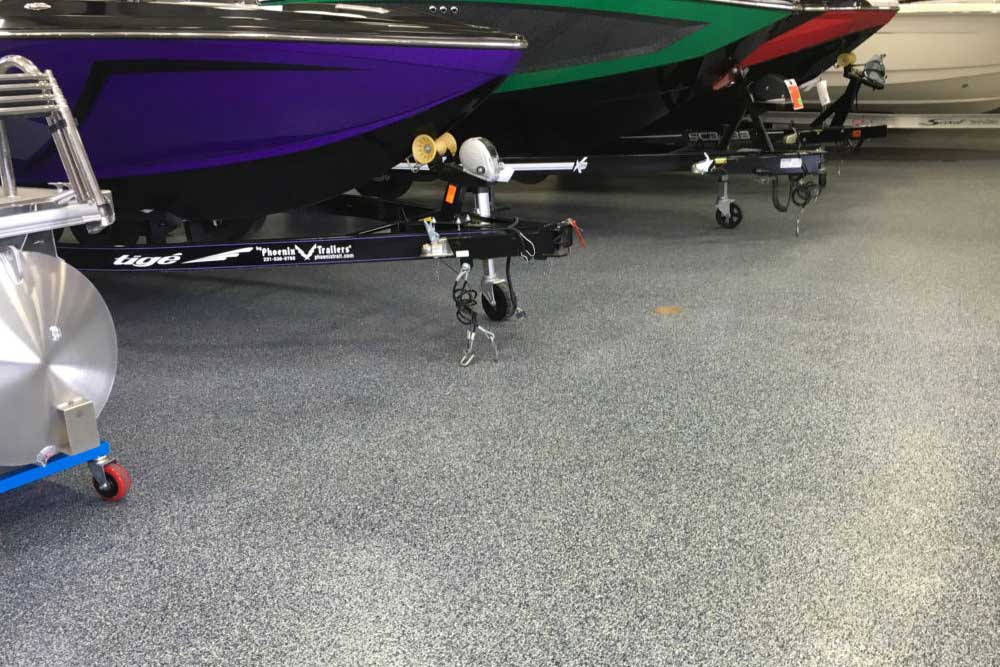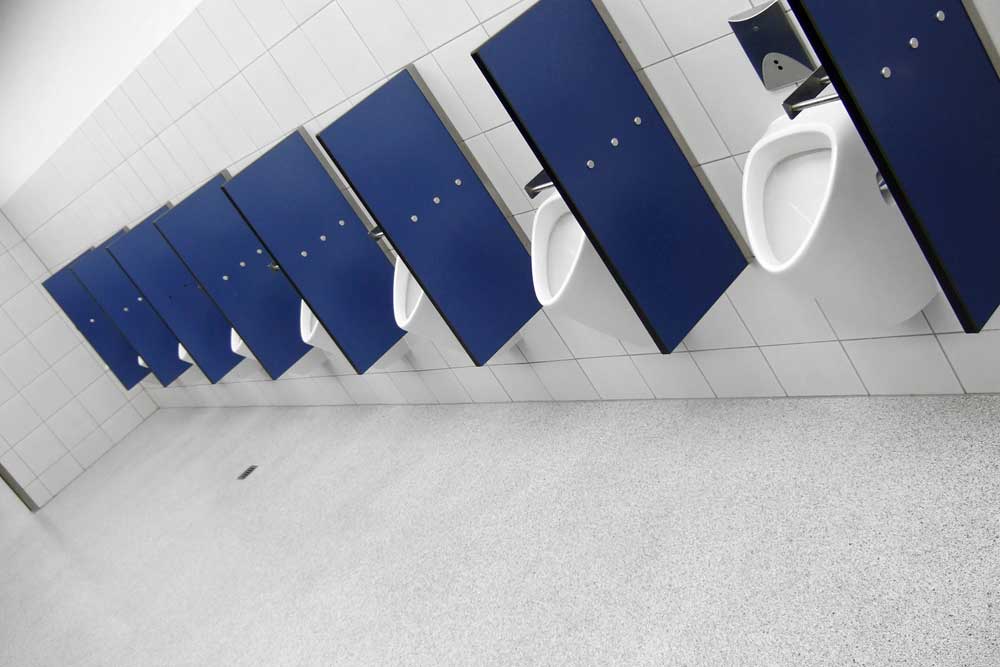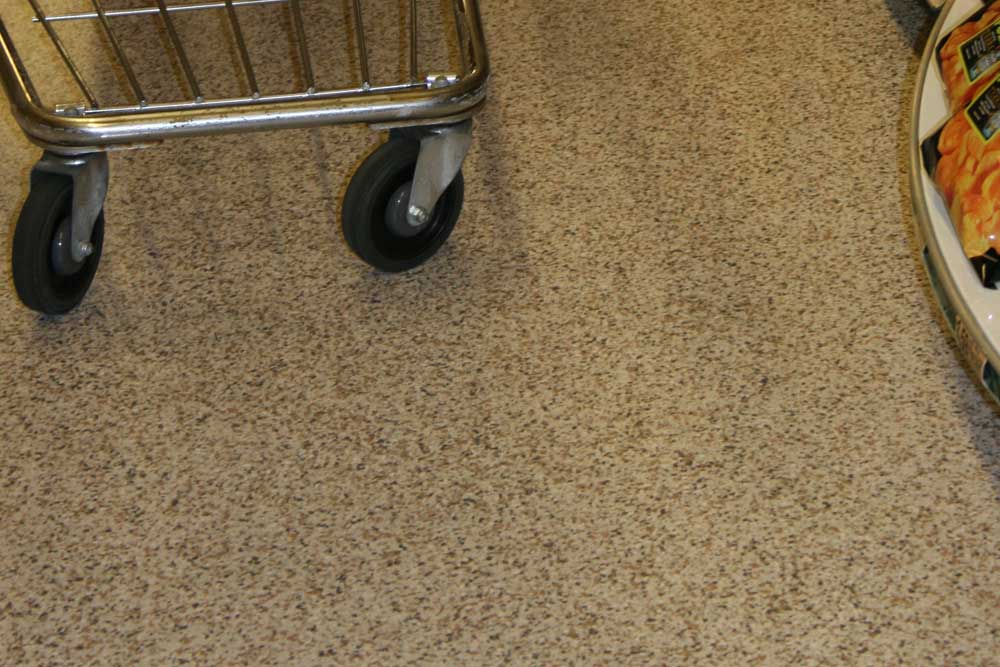 Commercial Epoxy Floor Installations
In the Winnipeg area, our commercial floor installation projects have included warehouses, manufacturing plants, commercial kitchens, retail stores, medical facilities, and hospitality establishments.
Commercial Floor Applications
Some of the more popular commercial concrete flooring applications now include seamless vinyl colour chips or quartz granules, multi-coloured stains, metallic pigments, and theme matching colour combinations. With an endless range of color-styles, texture, size and blending options, commercial flooring systems are becoming more customized.
Key Benefits of Commercial Epoxy Floors
High Durability – Commercial epoxy flooring is extremely strong and durable with a life-span that far surpasses other floor covers. It can withstand heavy foot and equipment traffic and is difficult to damage.
Low Maintenance –  A properly installed, sealed and maintained epoxy concrete floor can last more than a hundred years. Dirt, grime, and other debris are easily wiped off. Damp mopping once a week to remove scuffs and water marks is all that is usually required. Additional maintenance may be required with other types of floor finishes. Epoxy concrete floors do not require any waxing or stripping to maintain the sheen.
Cost Effective – The long life-span of commercial epoxy flooring far surpasses that of other floor coverings. This means money can be saved as there is no need to remove and replace worn or damaged flooring. The cost saving and long life expectancy of this type of flooring have made it the new choice for offices, schools, retail stores, offices, clinics, and restaurants.
Aesthetics – The choice of colors and texture effects for concrete floors is limitless. We love to bring to bring old drab concrete surfaces to life.
Sanitary – Properly polished and sealed concrete floors are non-porous, meaning they prevent liquids and contaminants from getting into the concrete. This is why many health facilities and the hotel and hospital industry are choosing this type of flooring over others. Done properly, the surface of your floor should resist bacteria and other similar contaminants.
Safety – While we can create high gloss finishes that can be slippery when wet, we frequently install non-slip epoxy coatings to help prevent slip and falls.
Brighter – High gloss finishes help increase ambient lighting. The increased light reflectivity makes this type of flooring ideal for retail outlets, showrooms, restaurants, and office buildings where a clean, bright and professional image is required.
Chemical & Solvent Resistant – Commercial concrete floors can be sealed with a chemical-resistant epoxy to protect your floor against harsher chemicals and solvents.
Environmentally Friendly – Commercial concrete floors do not contain harmful Volatile Organic Compounds (VOC) unlike floor coverings such as carpeting, hardwood floors, and vinyl flooring materials.
Enhance Your Image
In commercial settings image is important. If you are uncertain about the look you are trying to achieve, we can recommend some options and products that can enhance your image and protect your facility's architectural value. Floor colors and designs can draw attention and influence traffic flow as well as reflect light and brighten areas.
Colored epoxy decorative coatings bring texture and depth while illustrating the artistic viability of the floor. Our commercial flooring solutions include decorative resinous flooring and polished concrete flooring.
Durable and Cost-Effective
Commercial concrete floors have become increasingly more durable with the ability to resist heavy foot and equipment traffic as well as chemical stains. With life spans that stretch beyond 30 years, concrete flooring systems are far more economical than other types of flooring and they require little maintenance. They can also be made slip resistant so that they are safer to walk on. The safety and durability factors alone are why these types of floors are used in retail stores, hospitals, warehouses, auto dealerships, airports, and fire departments.
As concrete flooring specialists, we can help assess your needs and recommend the best commercial flooring system that is right for you.
For a FREE, no obligation quote on having epoxy floor coatings applied to your concrete floor call us at 204-384-8321.
Service Area
Our Service area includes Winnipeg, Brandon, Winkler, Portage la Prairie, and Steinbach Manitoba.