Solutions for Leveling Uneven Concrete Floors
There are a few methods we use for leveling or sloping concrete floors in the Winnipeg area. They include self-leveling cement, self-leveling epoxy, and grinding.
In many cases we see, floor leveling is required due to the settling of your concrete floor. Another factor is frost from cold Winnipeg winters causing the soil to swell and rise. Uneven floors often result in cracking, joint separation, or sloped surfaces. Luckily, in most cases, they can be easily fixed.
Methods for Concrete Floor Leveling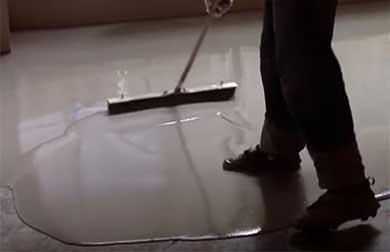 Self-leveling Cement – This works well if your floor has some dips or slopes. Self-leveling cement can be poured in just one day, but don't try this on your own unless you know what your doing. It takes plenty of knowledge and experience to perform this procedure correctly as there are many variables that can affect the end result. Mistakes can be costly and very labour intensive.
Self-leveling Epoxy – Where floors are cracked and damaged, but not severely, a self-leveling epoxy may be used to create a smooth, seamless surface. Self-leveling epoxy can be used in a number of applications such as commercial, industrial, and residential.
Grinding – We use a powerful industrial grinder to remove high ridges in your floor. The grinding head consists of diamond blades that lightly cut away at the ridge until it is eliminated.  Grinding also helps prepare your surface for maximum adhesion.
Related Services
A few related services to Concrete Leveling include:
Service Area
Our Service area includes Winnipeg, Brandon, Winkler, Portage la Prairie, and Steinbach Manitoba.
For a FREE, no obligation quote give us a call at 204-384-8321.